GRENARY-18 Growth Promoter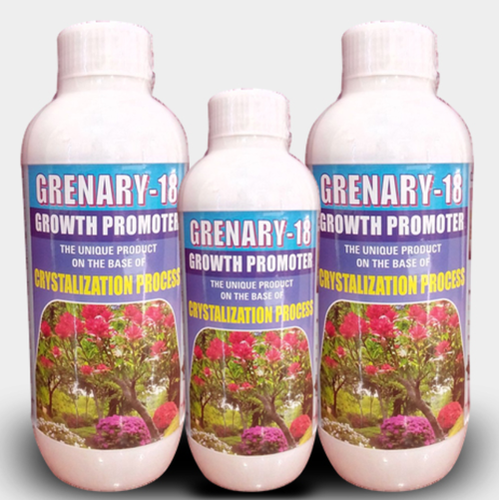 GRENARY-18 Growth Promoter
Price And Quantity
Product Specifications
GRENARY -18 GROWTH PROMOTER

98%
Composition of different trees & organic products of nature.

7 To 8
Indian Ancient Science

Nutriment & Biological support from natural available form of plants & trees extracts
Product Description
"ORGANIC INDIA - HEALTHY INDIA - CANCER FREE INDIA"
GROWTH PROMOTER :
G.P. IS 100% ORGANIC, UNIQUE COMBINATION OF HERBS, TREE EXTRACTS & NATURAL MINRALS, BASED ON UNIQUE THEORY OF CRYSTALIZATION PROCCESS CAN ENHANCE THE PHOSYNTHESES PROCCESS. IT IS THE FIRST PRODUCT AVAILABLE, CAN CREATE VERTICAL LAYER OF CRISTALS ON THE LEAVES. CRYSTAL HELPS TO CREATE MULTIPAL REFLECTIONS OF PHOTONS AND SMALL MOUNTAINS HELP TO STOP MOISTURE AVAILABLE IN THE AIR ON THE LEAVES. BY HELPING PLANTS TO HAVE MORE SUNLIGHT & MOISTURE TO GROW FASTER AND HEALTHIER.
Trade Information
Our All Products are Organically Approved by Govt.Of India -"APEDA"& "NPOP" Approved Organic Certified Agency "ROCA" - Rajasthan Organic Certification Agency.